Neil Cusack graduated from St Munchin's College in 1970 having gained a scholarship to East Tennessee University. In 1974 at the age of 22 he won the Boston Marathon and remains the only Irish athlete to have done so. He represented Ireland at the Olympic Games twice, in 1972 in Munich and in 1976 in Montreal. In 1981 he won the Dublin Marathon.
Larry Moloney graduated from St Munchin's College in 1969. His kicking defeated Rockwell in the 1968 Munster Schools Senior Cup final. Ten years later he played for Munster in the historic defeat of the All-Blacks in Thomond Park.
In his Rugby career, Larry played for Garryowen and Munster and was capped for Ireland.
Roy Galvin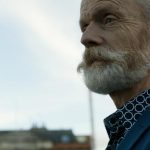 Roy Galvin (Class '74)
A TG4 documentary put the spotlight on Ireland's first home grown male ballet dancer, Roy Galvin.
Finné is an award winning Irish language documentary series that tells the stories of people who have lived through trauma or trying times.
An upcoming episode directed by Deirdre Mulrooney will follow the life of Roy Galvin who was born above his parent's hairdressers and barbers on Thomas Street in 1956. The man who became Ireland's first professional ballet dancer has told how he grew up as a gay man in a very different Ireland.
He attended An Modh Scoil Primary School (where he had a very positive experience) and St. Munchin's College Secondary School (where his experience was less positive).
Roy has dedicated his life to music and dance and became a professional dancer with The Irish Ballet Company and Dublin City Ballet, prior to establishing his own company Pas de Deux Dance Company.
The Limerick man is also a great advocate for Irish traditional music and plays multiple musical instruments.
He has toured America and Canada with his music and has played trad music in Bermuda on several occasions.
As well as ballet, Roy is an accomplished Irish solo dancer, sean-nós dancer and set dancer.
In 1996 Roy retired from the world of professional dance to concentrate on the promotion of Irish culture at his centre, Tigh Roy, in the Glen of Aherlow.
Roy has been described as Ireland's first home grown male ballet dancer and the show will document his artistic career as well as his personal life.
The programme will chart what it was like for Roy to grow up gay in Limerick and also features appearances from David Norris in relation to de-criminalisation of homosexuality and marriage equality.
Finné was aired last night, Wednesday March 9 on TG4 at 9:30pm- well worth watching.
It would be great if all teachers of Irish could view this 1 hour episode over 2 classes with their TY, 5th & 6th Year students. We would hope to have Roy visit the school sometime soon
Michael Collins (born 1964) is a novelist and international ultra-distance runner. His novel The Keepers of Truth was shortlisted for the 2000 Booker Prize. He has also won the Irish Novel of the Year Award and theLucien Barriere Literary Prize at the Deauville American Film Festival. Collins is a graduate of Oxford University. 
A former member of the Irish National Team for the 100k distance (62.2 miles) he holds the Irish national masters record over the 100k distance. As captain of the Irish National Team in 2010 he won a bronze medal at the World 100k Championships held in Gibraltar. He has also won The 100-mile Himalayan Stage Race and also The Mount Everest Challenge Marathon, along with The Last Marathon in Antarctica, and The North Pole Marathon.