Good afternoon all Parents/ Guardians
Once again some updates on our school community.
Firstly, we would like to thank everyone (our colleagues, ancillary staff, students and parents) for making such a sustained effort in keeping our school safe over the past few months. It is both reassuring as well as comforting to know that,  we have only had one positive school case so far,  and with 54 close contacts tested- to date, we have not been notified of any cases of subsequent transmission within the school environment. This is a phenomenal achievement considering the size of the school and the age profile of the boys that come into us each day. The health and  well-being of our school community has been and is the fundamental element of this school's overall plan to ensure a successful return to school as we continue to manage the impact of the Covid-19 pandemic.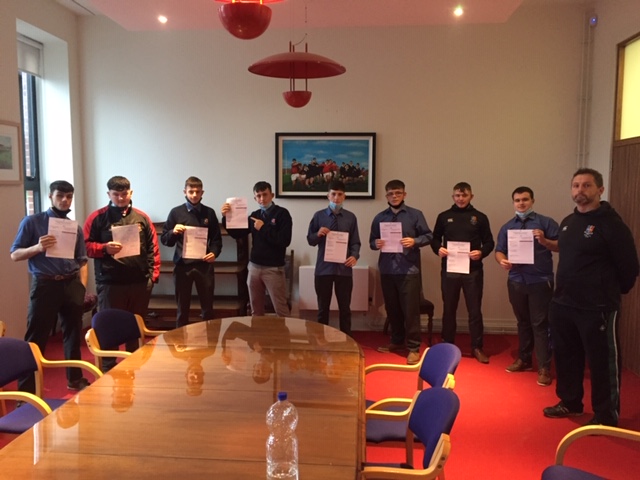 Congratulations
to our LCA 6th Year students (photo of students with our LCA Coordinator-Mr. Quinlan) on receiving their results from the State Exams this week. Quite a number of the boys are well on their way to gaining a Distinction for their Final Exams in June- super effort. Well done boys we are all very proud of you.Thank you to Mr.  Quinlan , LCA Co-ordinator, and the LCA teachers, for all their help and guidance with the LCA Programme.
Sci Fest 2020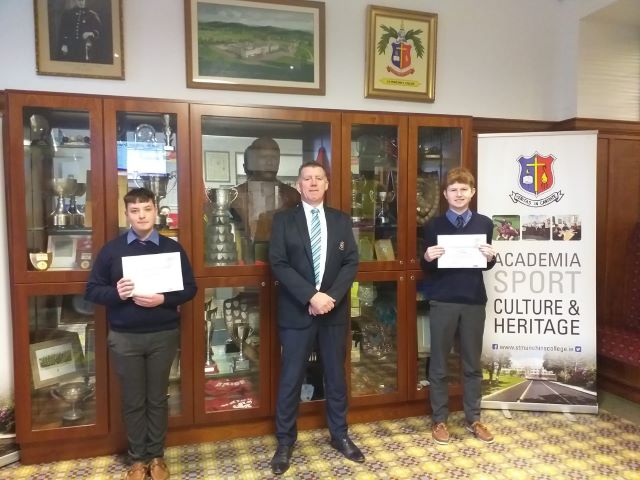 Congratulations to our students Eoin Minogue and Darragh O'Halloran (5th Year students-photograph with Mr. Quilter) who took part in the Sci Fest 2020 competition and have been awarded a Certificate of High Achievement for their project. Congratulations to the boys and to their teacher Ms. Ni Fhlatharta, on their wonderful achievement.Well done boys!
Excellence in Coding and Digital Media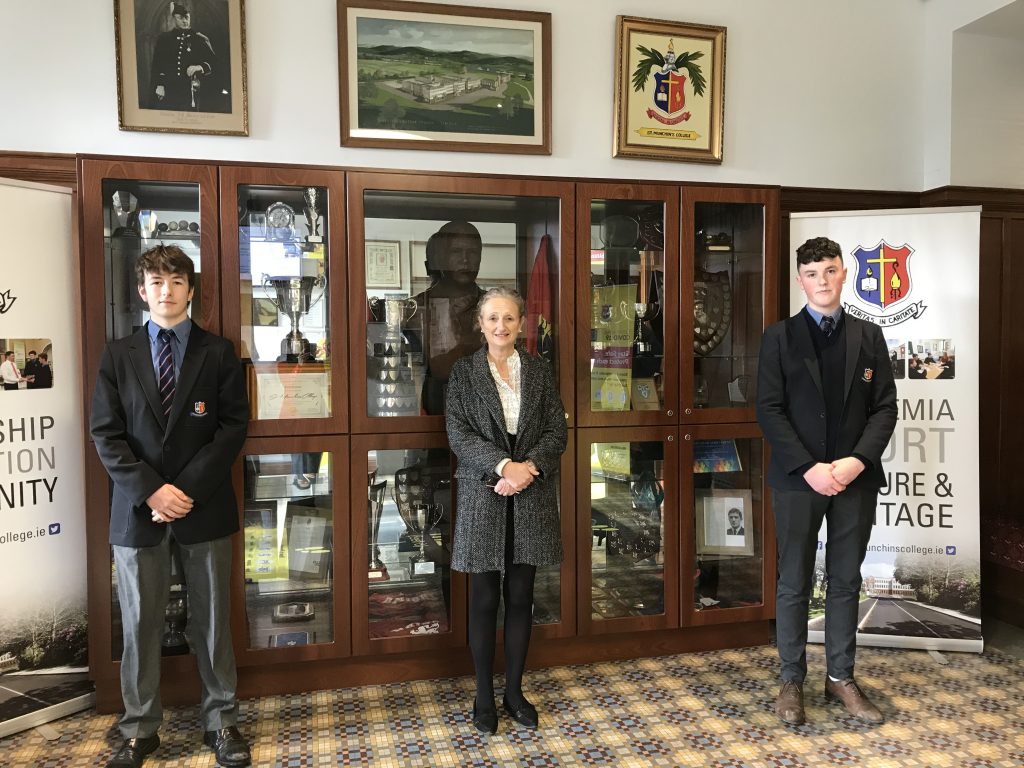 Congratulations are also extended to Ruaidhri Walsh- Kelly and Jack Doran (TY students-photo with their teacher Ms. Hayes). The boys were awarded a Certificate of Excellence by the Junior Cert Computer Science Presentation online event hosted by the University of Limerick. for their participation, engagement, and excellent performance, in the trial of Coding and Digital Media as a short course (new short courses offered as part of Junior Cycle), which was rolled out three years ago to a small number of pilot schools. At the time St. Munchin's College was chosen as a pilot school to run the course and now Coding and Digital Media is very much embedded as an option subject offered to the boys. Junior Certificate Computer Science Presentation online event hosted by the University of Limerick. Well done to the boys and to their teacher Ms. Hayes.
Science Week 2020
As part of our Science Week 2020 the following activities have been taking place:
1st Year poster competition/ workshop on STEM subjects
2nd Year- 

Essay on a topic relating to 

Science.

 

TY Students-Group of students attended a virtual event organised by the University of Limerick "The Sophia Project: Science outreach to promote Physics" this morning


As part of our focus on co-curricular links across all subjects in the school all teachers and students watched the following video on RTE player "10 Things to know about" during f

irst class this morning. 

 We have included the Link 

below.




A special word of thanks to the Science Department for organising and coordinating all of the above events which will only help to strengthen the uptake of Science subjects at Senior Cycle Level. 

Mobile Phone Use by 2nd and 3rd Years
At the beginning of the year we agreed to permit students to bring their phones to school, as during the lockdown period we identified that the phone was their devise of choice in terms of viewing and submitting assignments on -line. Many of our students do not have access to lap- tops, PC's or I pads and given the fact that the vast majority of the boys were extremely efficient at using their phones to access their work, it made sense not to change from this "device of choice". We also wanted to ensure that parents were not under extra pressure to purchase new devices such as those mentioned (I pads, lap tops etc). Encouraging students to bring their phones to school in September , afforded us the opportunity to tease out any technical issues that some students may have experienced with logging onto Teams, accessing and submitting assignments etc. In addition, given the fact that 2nd years didn't have access to lockers, some teachers were permitting students to access the digital version of the book, through their mobile phone in class. Also, at that time we were implementing plans with our students in the event of another prolonged lock down, which thankfully never took place.
We are now in a position , whereby we feel that all our students are capable of accessing proficiency, their work through Teams and so the need to have their phone in school with them (Junior School classes 1st to 3rd years) no longer exists. In addition, over the last few weeks , we have encountered some issues among the 2nd and 3rd years in relation to their misuse of the phone: Playing games on their phone ("Among Us" is a new game that the boys are constantly playing, in addition to the immaturity of 2nd & 3rd years to use their phone appropriately- students are constantly distracted by their phone-checking the time, notifications etc. Consequently, the students are lacking focus in class because they are far too concerned about what is on their phone.
Therefore,  the decision has now been made by school management, that students in 1st, 2nd and 3rd year will no longer be permitted to bring their phones to school. The students have been informed of this change throughout this week, and, have been instructed that we will be reverting back to our original mobile phone policy pre- Covid-NOT SEEN, NOT HEARD NOT CONFISCATED. 
Students will continue to view and submit all required homework assignments through Microsoft Teams and this can be done using their mobile phones (or other devices) at home.
Have a lovely weekend,
Kind regards,
David Quilter    Lorraine Shiels